If it's underlined, it's a link! 
QUARTERLY DUES
The extended deadline for payment of Q2 Dues is next Monday, June 15. Members who pay annually may disregard this message.
Now, legislation being introduced today will threaten Colorado's economic recovery by targeting harmful policy at those same small businesses - including REALTORS® - Coloradans all rallied to support just weeks ago.

MEMBERSHIP HUB
REALTOR® Members: Have you looked at the new Member Login section yet? Set up your account to upload photo, edit/update contact information, track continuing education, pay invoices, and more.
To begin, click here, or follow the link "MEMBER LOGIN" from our Home Page.
Click "Create Account".
Input your first and last name, along with your email address on file with MAR; click submit.
The system will email you an account activation link that will allow you to create a password.
Login using your email as username, and the password you just created.
Watch the video, and learn how to add your photo, pay invoices, and more!
If you have trouble logging in, please email Kindal@mac.com. Please note the HUB is for REALTOR® members only.
MARLINK ARCHIVES 📝
On the right is a dropdown menu offering links to our most recent editions of MARlink. You can also find these on the main MARlink page, which you may want to bookmark for convenience - www.montroseassociationofrealtors.com/marlink.
GARY BAUER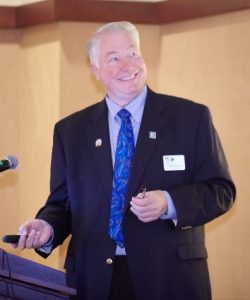 It is with great sadness we share news of Gary Bauer's passing. Gary diligently served our profession in countless roles through the Jefferson County Association of REALTORS® and then Denver Metro Association of REALTORS®. Gary was a key figure at the state and national level in many capacities, most notably serving as CAR Treasurer from 2017 through 2018 and as a NAR Director for many years. Not only was Gary generous with his time, he had a passion for supporting and investing in RPAC and the CAR Foundation. In 2016, he joined the RPAC Hall of Fame reaching the $75,000 level.
We send our condolences and best wishes to Gary's wife Janet and their family and thank them for sharing Gary with us. He will be greatly missed.
CAR ELECTION RESULTS
Congratulations all the candidates who won the CAR elections, and to Lynn Gillespie, with Grand Junction Area REALTOR® Association, who will represent us as the Western District Chair-elect.
The following are the results for the 2020-2021 CAR Leadership Elections:
Chair: Robert Walkowicz (Loveland/Berthoud)
Chair-elect: Matthew Hintermeister (Telluride)
Treasurer: Mary Ann Hinrichsen (Greenwood Village)
The NAR Director position won by Justin Knoll as well as one other Director position with a one-year term have been allocated to SMDRA and Pikes Peak for the year 2021. As of May 31, 2020, they both reached the 4,000-member threshold. This will officially be confirmed July 31, 2020 by NAR.
District Chair-elects:

Metro - No applicants at the time of the election.
Mountain – Jackson Horn
Northeast – Cher Smith
Southeast - No applicants at the time of the election.
Western – Lynn Gillespie
NATIONAL CODE OF ETHICS DAY: JUNE 18
Code of Ethics Update Course with Scott Peterson & Damian Cox
Thursday, June 18, 2020
9am – 12pm; 3 CE credits
$10 fee (a portion of proceeds goes to the CAR Foundation)
CENSUS 2020 💯
Secure funding for our local community. Complete the Census to today!
The following designation courses are offered to you in partnership with the Denver Metro Association of REALTORS®
NOTE: Please read all information on the registration as there may be additional fees associated to obtain Designation or Certification.                             
Win-Win Negations Techniques® (CRS)
Tuesday, May 11th, 9:00 AM - 5:00 PM
Online, hosted through Zoom
Price: $189 CE Credits: 8 | Register Here
The most recent NAR Profile of Home Buyers and Sellers reports that 87% of buyers identified negotiation skills as a very important quality for their real estate agents. Since another key element of success is developing and sustaining relationships, agents must consider not only the outcome of a negotiation but also their rapport with the other party. This course provides negotiation strategies that enable you to achieve mutually satisfying results rather than haggling over issues that can derail transactions. Through highly-interactive role playing activities, you will develop and practice scripts that can prepare you to successfully negotiate with all parties in a transaction, including clients, other agents, and service providers.
Seller Representative Specialist® (SRS)
Tuesday, May 18 and Wednesday, May 19, 9:00 AM - 5:00 PM
Online, hosted through Zoom
Price: $299 CE Credits: 12 | Register Here
​Elevate ​professional ​standards ​and ​enhance ​personal ​performance. ​ ​The ​designation ​is ​awarded ​to ​real ​estate ​practitioners ​by ​the ​Council ​of ​Real ​Estate ​Brokerage ​Managers ​(CRB) ​who ​meet ​specific ​educational ​and ​practical ​experience ​criteria. The ​SRS ​Course ​will ​redefine ​your ​"normal" ​and ​reinvent ​the ​way ​you ​represent ​sellers. ​ ​It ​provides ​a ​comprehensive ​foundation ​of ​skill ​development, ​training ​and ​resources ​to ​help ​real ​estate ​professionals ​represent ​the ​interests ​of ​sellers ​in ​today's ​marketplace.
Learning Objectives:

Increase ​listings ​and ​grow ​their ​business
Demonstrate ​and ​communicate ​their ​value ​package ​to ​seller ​clients
​Understand ​and ​apply ​the ​Code ​of ​Ethics ​& ​Standards ​of ​Practice
​Understand ​and ​comply ​with ​state ​license ​laws ​when ​representing ​sellers
​Understand ​and ​apply ​methods, ​tools, ​and ​techniques ​to ​provide ​support ​and ​services ​that ​​sellers ​want ​and ​need.
Technology and Plans for Success (CRS)
In this virtual world are you doing enough to stay competitive?
Wednesday, April 14th, 9:00 AM - 5:00 PM
Online, hosted through Zoom
Price: $189 | Register Here
This course examines the changing role of real estate agents in the rapidly-evolving technology age and guides the technologies needed to effectively work with today's connected consumers. You will leave the class with templates, strategies and tools to identify, evaluate and select appropriate technologies to enhance your communication.
Learning Objectives:
Select the appropriate equipment, software and technology platforms needed to streamline your operations and meet the expectations of today's tech-savvy consumer.
Leverage customer relationship management (CRM) software to grow your network, communicate proactively with clients and maximize efficiencies in your business.
Design and optimize your website to improve your professionalism to the consumer and provide data to help them understand your services.
Develop effective email marketing initiatives to improve client communications and provide value to your client productivity, and efficiency, while keeping your clients' data safe.
Design and optimize your website to improve your professionalism to the consumer and provide data to help them understand your services.
Develop effective email marketing initiatives to improve client communications.
At Home with Diversity (AHWD)
Tuesday, April 27th, 9:00 AM - 4:00 PM
Online, hosted through Zoom
Price: $189 CE Credits: 6 | Register Here
REALTORS® know the importance of adapting and remaining relevant in today's marketplace. By developing a business practice rooted in inclusion and equality, you can help buyers of all cultural backgrounds achieve the dream of homeownership. The At Home with Diversity® (AHWD) certification course teaches you how to work effectively with diverse populations so you can build business success in today's multicultural real estate market.