If it's underlined, it's a link! 
QUARTERLY DUES
The extended deadline for payment of Q2 Dues is next Monday, June 15. Members who pay annually may disregard this message.
Now, legislation being introduced today will threaten Colorado's economic recovery by targeting harmful policy at those same small businesses - including REALTORS® - Coloradans all rallied to support just weeks ago.

MEMBERSHIP HUB
REALTOR® Members: Have you looked at the new Member Login section yet? Set up your account to upload photo, edit/update contact information, track continuing education, pay invoices, and more.
To begin, click here, or follow the link "MEMBER LOGIN" from our Home Page.
Click "Create Account".
Input your first and last name, along with your email address on file with MAR; click submit.
The system will email you an account activation link that will allow you to create a password.
Login using your email as username, and the password you just created.
Watch the video, and learn how to add your photo, pay invoices, and more!
If you have trouble logging in, please email Kindal@mac.com. Please note the HUB is for REALTOR® members only.
MARLINK ARCHIVES 📝
On the right is a dropdown menu offering links to our most recent editions of MARlink. You can also find these on the main MARlink page, which you may want to bookmark for convenience - www.montroseassociationofrealtors.com/marlink.
GARY BAUER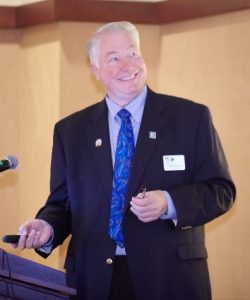 It is with great sadness we share news of Gary Bauer's passing. Gary diligently served our profession in countless roles through the Jefferson County Association of REALTORS® and then Denver Metro Association of REALTORS®. Gary was a key figure at the state and national level in many capacities, most notably serving as CAR Treasurer from 2017 through 2018 and as a NAR Director for many years. Not only was Gary generous with his time, he had a passion for supporting and investing in RPAC and the CAR Foundation. In 2016, he joined the RPAC Hall of Fame reaching the $75,000 level.
We send our condolences and best wishes to Gary's wife Janet and their family and thank them for sharing Gary with us. He will be greatly missed.
CAR ELECTION RESULTS
Congratulations all the candidates who won the CAR elections, and to Lynn Gillespie, with Grand Junction Area REALTOR® Association, who will represent us as the Western District Chair-elect.
The following are the results for the 2020-2021 CAR Leadership Elections:
Chair: Robert Walkowicz (Loveland/Berthoud)
Chair-elect: Matthew Hintermeister (Telluride)
Treasurer: Mary Ann Hinrichsen (Greenwood Village)
The NAR Director position won by Justin Knoll as well as one other Director position with a one-year term have been allocated to SMDRA and Pikes Peak for the year 2021. As of May 31, 2020, they both reached the 4,000-member threshold. This will officially be confirmed July 31, 2020 by NAR.
District Chair-elects:

Metro - No applicants at the time of the election.
Mountain – Jackson Horn
Northeast – Cher Smith
Southeast - No applicants at the time of the election.
Western – Lynn Gillespie
NATIONAL CODE OF ETHICS DAY: JUNE 18
Code of Ethics Update Course with Scott Peterson & Damian Cox
Thursday, June 18, 2020
9am – 12pm; 3 CE credits
$10 fee (a portion of proceeds goes to the CAR Foundation)
CENSUS 2020 💯
Secure funding for our local community. Complete the Census to today!