If it's blue, it's a link for you!
2021 BOARD ELECTIONS
MAR is now accepting applications to serve on its Board of Directors.
< APPLY HERE > 
REAL ESTATE SCAM ARTIST WARNING
CAR has received several warnings about a scam artist working in multiple areas across the state posing as a high-profile buyer (specifically, requesting showings of million-dollar properties and horse properties). This scam artist has been known to provide fraudulent checks in large denominations to attempt access to properties prior to closing and has also succeeded in persuading buyer's agents to pay for hotel accommodations, which has resulted in damaged hotel property and financial liability for the duped agent. We have heard reports that this con artist has been attempting this scam in Grand Junction, Aspen, and Colorado Springs, but could be active anywhere in Colorado.
CAR would like to remind REALTORS® to remain cautious and practice due diligence in any situation where any prospective client is requesting live-in access to a property by offering checks or is asking you to pay for their accommodations while they search for properties. Remember that your safety – and your professional/personal liability - should remain a top priority!
RPAC MONTH
HAVE YOU CUSTOMIZED YOUR MAR MEMBER PROFILE?
This profile is what shows consumers who search the MAR website directory. Check out the example from Julia Seglund: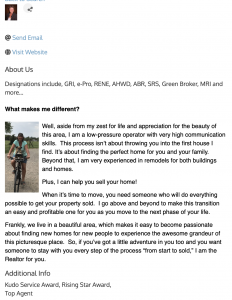 To complete your profile, follow the instructions below to login and update your account: 

Click here to begin, or follow the link "MEMBER LOGIN" from our Home Page.
Click "Create Account".
Input your first and last name, along with your email address on file with MAR; click submit.
The system will email you an account activation link that will allow you to create a password.
Login using your email as username, and the password you just created.
Watch the video, and learn how to add your photo, pay invoices, and more!
If you have trouble logging in, please email Kindal@mac.com. Please note, at this time, the HUB is for REALTOR® members only.