If it's blue, it's a link for you!
Association News
2021 BOARD ELECTIONS
Voting for MAR's 2021 Board of Directors begins this Thursday, September 17 at 8 a.m., and closes September 21 at 5 p.m. You will receive a link to vote by email on Thursday morning.
Candidates:
Chair Elect (Select One):
- Lee Ann Parden
- Michael Underwood
Director (Select Two):
- DeNece Crowe
- Andrea Johnson
- Pete Rock
ANNUAL INVOICES
Invoices for annual billing will be sent by email October 15, and due December 15. Once again, they will be payable through the new MAR Website. Please see directions below for setting up your account, if you haven't already.
SET UP MAR WEBSITE & PAYMENT ACCOUNT
To complete your profile, follow the instructions below to login and update your account. Please email kindal@mac.com if you need assistance.
Follow the link "MEMBER LOGIN" from our Home Page.
Click "Create Account".
Input your first and last name, along with your email address on file with MAR; click submit.
The system will email you an account activation link that asks you to create a password.
Login using your email as username, and the password you just created.
Watch the video to learn how to add your photo, update contact information, pay invoices, and more!
Advocacy
CALL TO ACTION
It is reported that $1.5 trillion federal dollars are allocated annually to states and localities for various purposes and programs, including federal funding for housing, libraries, schools, hospitals, roads, and other federal programs and services as a direct result of Census participation. Not to 
mention, Census data determine's our state's congressional representation. Let's not miss out, Colorado!
Results are especially important for REALTORS®. This data allows us to analyze demographic information, make industry growth projections, and evaluate generational housing population demands. NAR research teams can use the results to analyze migration trends – identifying potential customers and markets – and to better understand the population of homeowners who have been affected by natural disasters.
Time is running out! Take 10 minutes to make sure you and your clients are counted. Post the image below to social media when you're done!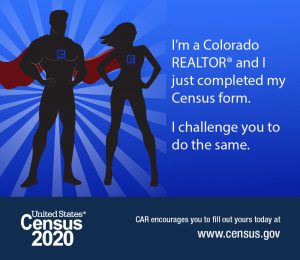 REGISTER TO VOTE
Are you one of the only 12% of REALTORS® who are registered to vote? If not, register today and make your vote count!
NAR dedicates September as REALTOR® Safety Month, and helping members understand the risks they face through knowledge, awareness, and empowerment.
CAR SAFE SHOWING PLEDGE 
Take the Pledge, and share your commitment on social media by posting this image!