If it's blue, it's a link!
MAR
GENERAL MEMBERSHIP MEETING
July 28 at 8:30 am
MAR Offices
MAR AE
The Board has submitted a proposal to GJARA for shared services, which would include the AE duties, as well as managing education, and events. Shared services are a NAR approved benefit for smaller associations and would save the association money, which may result in lower dues for our membership. We will keep you updated.
BILLING
The Board of Directors made the decision to not bill the members for the 3rd and 4th quarter dues. These are the board service dues of $87 a quarter.  Just a reminder the board waived the 1st quarter so this year instead of the $348 for all four quarters you will only be responsible for the 2nd quarter dues of $87.  If you paid for the year you will be reimbursed for the 3rd and 4th quarter. There has been confusion on these dues they are separate from your annual dues which are billed in October for your NAR, CAR and MAR dues.
YOUR MAR ACCOUNT
To view invoices, update contact information, and even upload files such as CE certificates to a central location, please login to your MAR Website HUB.
HINT: Your username is the email address this MARlink was sent to.
UPCOMING CE
Water with Aaron Clay
August 27
8:00 am - 5:00 pm
Lunch will be provided.
Registration announcement coming soon.
NAR
IN THE NEWS
NAR Issues Statement on Supreme Court's CDC Eviction Ban Ruling
BOARD OF CHOICE/MLS OF CHOICE
What is Board of Choice?
Under previous jurisdictional policies of the National Association, REALTORS® were required to join the board where their principal place of business is located, prior to joining any other board. The "Board of Choice" concept allows REALTORS® to choose the board to which they want to belong on the basis of the factors they decide are most important rather than being limited by office location or jurisdictional boundaries. At the same time, services of other boards are available without the necessity of holding membership in those boards.
When did these policies become effective?
Board of Choice was mandatory as of January 1, 1996.
MLS Policy Statements 7.42 and 7.43 - "MLS of Choice"
Effective July 1, 2018, this policy gives agents a choice in subscribing to any MLS in which their broker is a participant.
REALTOR'S RELIEF FOUNDATION
20th Anniversary Campaign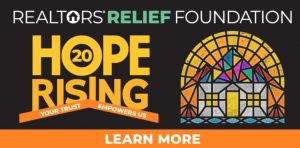 2021 REALTORS® CONFERENCE & EXPO
November 12-15 in San Diego