If it's blue, it's a link!
MAR
MILITARY RELOCATION PROFESSIONAL CERTIFICATION COURSE
Tuesday, June 8th, 9:00 AM - 5:00 PM
Online, hosted through Zoom
Price: $189 CE Credits: 6
Register Here
Offered in partnership with the Denver Metro Association of REALTORS®.
Q2 BILLING
Second quarter dues are now past due, Please pay immediately through your website HUB to avoid late fees and avoid membership cancellation.
POSITION AVAILABLE
Janna is no longer serving at MAR's AE. MAR is seeking a new AE if you or anyone you know is interested. Please contact Michelle Martinez. See position description here.
CAR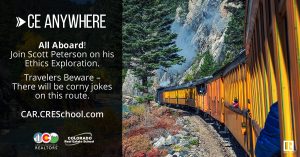 UPCOMING EVENTS

• CAR Fair Housing Event
June 16 | Virtual | Free
• Rocky Mountain Region XI Conference
July 7-9 | Gaylord Resort, Aurora
• CAR 100 Year Celebration Fall Forum
October 17-20 | Broadmoor Hotel, Colorado Springs